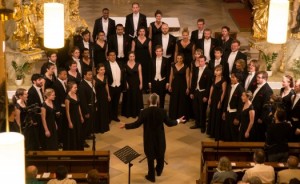 Any school choir can participate in a local or national choral event, but it's not every day that students get to experience an international culture all while doing something they love – singing! The best part is that CE can help you arrange all of your travel accommodations so that you don't have to worry about a thing. All you have to do is decide where you want to go and get your students pumped for the adventure ahead!
Upcoming High School International Choral Events
International Anton Bruckner Choir Competition and Festival
Dates: June 3-7, 2015
Location: Linz, Austria
The International Anton Bruckner Choir Competition offers a variety of categories for varying achievement levels of amateur choirs. It is also a Festival of Choral Music, allowing choirs from across the globe to participate in musical concerts. Competition venues include the Brucknerhaus, Linz Cathedral, and the St. Florian Monastery.
In… Canto sul Garda, International Choir Festival & Competition
Dates: October 10-14, 2015
Location: Riva del Garda (Italy)
This International Choir Festival and Competition focuses mainly on choirs with an interest in jazz, spiritual and gospel singing. There is also an emphasis on sacred music with categories for folklore. Typically, the event begins with all choir participants singing and parading through the charming old town of Riva.
Canta al mar 2015 – Festival Coral Internacional
Dates: October 21-25, 2015
Location: Calella/Barcelona, Spain
This international choir festival is open to all sorts of choirs, including mixed, female, male, youth, and children's choirs. There are no major restrictions in regards to repertoire; however, special attention will be given to the folklore and pop categories. All venues and event locations are within walking distance of each other, creating a huge convenience for all participants.
High School International Choral Opportunities Provided by CE
Australia/New Zealand Performance Tour
This international tour is far from "All work and no play!" Two spectacular performance opportunities include the destinations of Rotorua and Sydney. Your group will also get to explore the Outback with walking tours, zoos, sheep ranches, beaches, and more. View the full itinerary to see all of the fun!
"Music and Singin' in London, England"
Performance opportunities abound in this majestic city. From the Tower of London, to Camden Market, to the Royal Opera House and Caernarfon Castle– your choir group will love performing among royalty! Featured attractions include Big Ben, Windsor Castle, Buckingham Palace, Stonehenge, and more. See the full list of attractions here.
Perform in the Mecca of Music- Austria and Switzerland
Performance venues include Victoria Hall, La Parfumerie Theatre & Grand Café, and Porgy and Bess Jazz Club. Your students will also get the chance to learn Viennese Waltz Dancing and attend a performing arts workshop backstage at the Opera. After hours they'll have the opportunity to explore the remarkable cities of Vienna, Salzburg, Zurich, Lucerne, and Geneva. View a full list of attractions for each city here.
Getting Started with your High School International Choral Event
Planning your international choral event doesn't have to be a headache. CE uses a simple 3-step process to help you along the way. This method has been proven successful over the 15+ years that we've been in business. Let us help you plan your class trip and create wonderful memories and performance opportunities that your students will never forget!  Contact us today!
Social Share