Many educators have gone in pursuit of a part-time jobs in addition to their everyday teaching duties. Most of them end up doing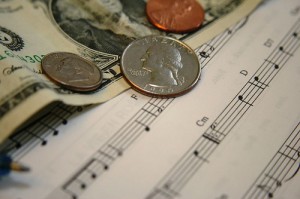 something they don't really enjoy just to help pay the bills. Fortunately, there are side gigs for music teachers that may actually be enjoyable and produce some extra cash.  Try these on for size…
Cha-Ching!
Private Tutoring – Sure, you already stay after school to help your students who are struggling with their new instruments or trying to learn a new piece of music. But why not set aside some specific days and times for private tutoring that actually pays? You could offer tutoring sessions on certain weeknights and/or weekends to people of all ages within your community. Reach out to folks in your neighborhood and ask small businesses if they'll post your services on their community bulletin boards. You never know who might be in need of some voice lessons for the next American Idol auditions!
Help judge a performance competition – There are all kinds of music festivals and competitions taking place across America on a regular basis. Put your expertise to good use by signing up to be an adjudicator or clinician at one of these music events. Simply contact the person in charge of the event to find out any necessary qualifications and the proper procedure for applying for the position.
Host an educational music workshop – You already have great teaching skills under your belt, so why not put them to good use by administering an educational music workshop for your community? You could do weekend workshops during the school year, or take advantage of your extra time off and go all out with a longer, more in-depth summer workshop. The best part is that companies like CE Tours pay to procure music directors for these types of services. (Contact us for more info!)
Part-time music store support – Check in with any local music shops in your city and see if they could use some extra evening or weekend help. They'd likely prefer to hire people with musical backgrounds, and the work might actually be something you enjoy. They may even be willing to hire you on to teach music lessons.
Play at weddings – Music teachers can easily make some extra cash on the side by providing their piano/organ playing skills at weddings. Create some cheap business cards at Vistaprint and partner with photographers, bakeries, churches, etc. to help get your name out there.
Play for a church – Many churches pay their pianists and choir directors a fair amount of money for their services. If you're already an active church goer, why not get more involved and offer your services to a church in need?
Create an online course – There are online courses for just about anything out there, including music. You can easily create your own online music course at Udemy.com. According to Udemy, the average instructor earns $7,000 by using their online platform.
Join TeachersPayTeachers.com – This is a great online community for teachers to buy and sell their original downloadable educational materials. Did you come up with an awesome lesson plan that your students respond to well? Offer it on this online community and make some money off of it! According to their website, the top seller on TeachersPayTeachers.com has made $2,605,000. With a great product and a little sales effort, you could make a lot of extra cash!
Paper or Plastic?
Side jobs for music teachers don't have to be terrible. With a little creativity and ambition, you can easily find a side gig that actually piques your interest. Just don't go too crazy with all that extra money you make!  😉
P.S. Check out our list of educator incentives for even more ways you can earn some extra cash!
P.P.S. Don't forget to book your next class trip with CE Tours! 
Social Share