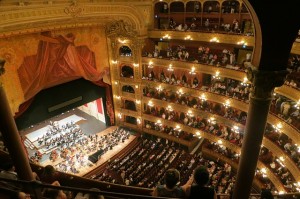 Orchestra performances are filled with full-bodied music and you can feel the passion radiating from each member of the orchestra. This year, there are several international orchestra events to watch out for. Consider taking your high school orchestra to the following events for a rich and unforgettable music-filled experience!
International Orchestra Events
Friends and Fantasies – To be held on the 27th of February in Sarnia, Ontario, "Friends and Fantasies" turn familiar fairytales and captivating sagas into musical performances. Expect pieces from Hansel and Gretel, Mother Goose, a Star Wars Medley, Tubby the Tuba, Lord of the Rings, and Child's Play to be performed at the Imperial Theatre.
London International Orchestra – The London International Orchestra is known for playing wonderful music for charitable causes, and over the years they have helped 10 different charities in the U.K. A charity concert will be held for Buskaid to help South African townships on the 7th of November, 2015 at the Cadogan Hall, 5 Sloane Terrace, London. What better way to inspire your students than through an international charity-driven orchestra event?
Aspen Music Festival – The Aspen Music Festival and School has just recently announced a travel-themed musical performance season and they will be featuring cross-cultural performances to watch out for. Students from the Colorado Symphony Orchestra Chorus and Aspen Opera Theater Center will be performing a version of Verdi's masterpiece Aida.
Royal Liverpool Philharmonic Orchestra – Also known as the RLPO, the Royal Liverpool Philharmonic Orchestra will be on tour in 2015. It has already started and their first stop was Japan where they had an orchestra of 100 musicians traveling by bullet train. Their next international performances will be at the Spring and Ostrava Festival in Prague, Czech Republic from June 2nd to 4th. On the 17th and 18th of September, they will be at the Enescu Festival in Bucharest, Romania.
Budapest Festival Orchestra – The Budapest Festival Orchestra is known for strong and fiery performances. During their performance at the Royal Festival Hall, London, England on the 20th of May, they will be led by Ivan Fischer and joined by the pianist Maria João Pires. The concert will be opened by Mozart's Overture followed by The Magic Flute, and then the Piano Concerto No.9. This is the perfect international musical event for high school students interested in all things classical music.
Your students will get to experience the wonders of international music first-hand when you take them to see an international orchestra event. CE Tours can help you plan your next high school orchestra trip. Not only will your students get to see amazing performances by professional orchestras, but they'll also have the opportunity to perform overseas themselves. Check out our featured tours and get a head start on planning your next international high school orchestra trip!
Social Share