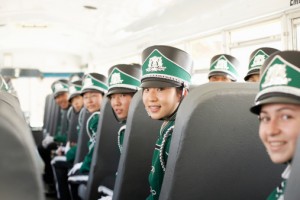 It's not always easy choosing a destination for your high school music group to visit. You want it to be a memorable learning experience that both educates and entertains at the same time. Here is a list of some of the most popular travel destinations for high school music groups.
Hawaii – There's no better way to beat the winter blues than a trip to Hawaii! Students can explore the island, tackle surfing lessons, or even climb a volcano! Popular performance venues include Pearl Harbor, the Ala Moana Center, and the USS Battleship Missouri. For many students, this is a once-in-a-lifetime opportunity.
Chicago – Well known for its deep dish pizza, Chicago is a favorite destination among various high school music groups all across the nation. Students enjoy visiting popular attractions such as the Shedd Aquarium, Adler Planetarium, and Lincoln Park Zoo. Local universities provide ample opportunities for high school music groups to perform and sharpen their musical abilities.
Disney World, Florida – What high school student doesn't love Disney World?! When they're not riding thrilling rides or exploring popular attractions, students can take part in exciting musical performances at one of the highest profile venues in the world.
Washington D.C. –  As they are learning about the judicial system and the great presidents of the past, students love to get an inside look at their nation's capitol where all of the official business takes place. Not only do students have the opportunity to learn more about their government firsthand, but there are also plenty of musical performance gigs for them to take part in. The National Cathedral, National Portrait Gallery, and American University are among the most popular performance venues for high school music groups in Washington D.C.
New York City – By far one of the most popular travel destinations for high school music groups, New York City offers performance opportunities like no other. Popular performance and workshop venues include Carnegie Hall, the Apollo Theatre, the Philharmonic, and Broadway. When they're not mastering their music skills, students can take part in guided tours of 80-year-old Radio City Music Hall, the Broadway Theater District, or NB News New York Studios. They can also visit the infamous Statue of Liberty and Ellis Island. Whatever the case, it's bound to be an experience they'll never forget!
London – Shakespeare's birthplace is also home to Big Ben, Buckingham Palace, Westminster Abbey, and a slew of other historically rich cultural destinations. A city known for its astounding musical performances, London offers high school music groups the performance opportunity of a lifetime.
Students can perform at the Tower of London, a historic castle that is now a symbol of royalty, or attend a musical workshop at Oxford University. The educational possibilities are seemingly endless in this majestic city!
Choosing a Travel Destination for Your High School Music Group
Let's face it – you'll never get everybody in your music group to agree on one location. You may find it beneficial to choose 2-3 top destinations and list out all of the attractions and performances available for each location. You can then distribute the information to the parents and students and let them vote on their favorite choices. Regardless of which destination you choose, your students are bound to have a great time exploring a new culture with their peers.
P.S. CE Tours can arrange high school music trips to any of the above locations and more! Check out our tour opportunities for full itinerary details.
Social Share